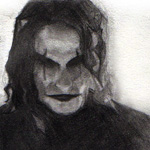 - Mon Feb 04, 2019 11:27 am
#817079
It's with a bit of trepidation I approach selling this guitar, which has been in my possession since 2007 and has served me very well over the years. It started out life as a stock Mexican Fender but has had a number of modifications made to it over the years:
- The ugly stock pearloid pickguard has been replaced with a black one, which looks much better and gives it a 70's / CBS era look.
-3-way blade switch was replaced with a 3-way toggle switch which is much easier to use. Controls are master volume and tone with push-pull.
- Bridge pickup is a Seymour Duncan Lil '59 humbucker in single-coil sizing. This can be coil-tapped using the tone control which is effective in the bridge and middle positions.
- Neck pickup is a Seymour Duncan Hot Strat. Traditionally a bridge pickup, it was installed to match the bridge output.
All standard aside from that. Please note I don't have any of the original parts that where replaced, have long since been sold/misplaced/reintegrated into other instruments. Mods were done by our revered mate Adrian/Ash Customworks so you know it's been done right.
Tonally, this Tele is quite versatile. The Lil '59 is very hot, but retains a warmth about it coupled with the semi-hollow body. Fantastic crunchy rhythm tones that get that 90's early Green Day or Weezer sound. A lot more bite in single coil mode. The Hot Strat in the neck is dark and smooth sounding for lead riffs or high-gain wailing. Important to note this is a different sound to a traditional Telecaster due to the pickups and hollow body. You can still get a twangy tone, but it veers more towards a warmer, 335 kind of tone – I wouldn't recommend it if you're after a very 'traditional' Telecaster sound. However, the pickups clean up well and I've found this guitar is great for a lot of tones – was my main guitar in a covers band for some years. Sound great for everything bar high gain metal, as the f-hole will feed back. I have dulled that somewhat by padding it out with cut up t-shirts, but it will squeal if try to go too Swedish bogan on it. Does Fleetwood Mac/Kings of Leon/Foo Fighters/Stone Temple Pilots great and will borderline Alice In Chains/Shihad but forget about Messhugah or Killswitch Engage

Playwise, it sounds great as it is, but may benefit from a setup as it has been a couple of years since last one was done and has mostly sat at home aside from being backup at a couple of gigs. Standard E with 10-46 gauge has always been how I've had it. I intended to replace the 3-saddle bridge with a more modern one but never got around to it. Tuners are fine for me and hold well. No issues with electronics though output jack is a bit shaky since I got it and has never been any issue. Please note the neck profile is fat/wide – it is NOT your standard Fender "C" shape. Very baseball bat thickness, which may take some adjusting to.
Frets (21) have plenty of life left. Body is in good shape, with the normal wear you'd expect on a guitar that's over a decade old and been used/gigged. The photos will support the description hopefully – the most notable blemishes are some oxidisation on the neck plate which will likely buff out, and the chunk taken out of the finish on the lower body below the controls. It's a chip that's right down to the wood and occurred prior to my purchase, but has never been any issue.
Selling as I've moved back to solid-bodies which work better with my current projects and this has languished for the last couple of years. One of the best things about this guitar is the semi-hollow body weight relief; it is quite comfortable to play for long periods of time and I've done 3 hour sets on this with no issues. I tried a lot of MIM and MIJ Fenders when looking for a Telecaster, and this one was the pick of the lot.
Includes an old generic case with foam lining that fits well and has protected it since I got it. Happy to ship at your cost and risk though would prefer pickup - I am on the North Shore in Auckland. Not really interested in swaps as such, but try me.
Can send pics via email to interested parties.
Not really sure of value but I'm sure someone here will tell me

http://www.facebook.com/#!/pages/The-Al ... 895?ref=ts
FYI, I'm NOT Scarecrow101 on Trade Me.... just The_Scarecrow