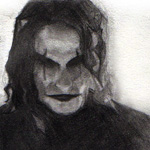 - Sun Dec 09, 2018 11:02 pm
#810777
ESP LTD Viper-256, Great guitar for metal, a more modern take on the classic SG shape.

Good condition, usual wear and tear that comes with use. Top strap button has been relocated to the upper horn to help correct neck dive.

Other mods include Gotoh tuners, Graph Tech nut, 1959 Guitar Co. "Yazoo" humbuckers, CTS pots, Switchcraft output jack, and a new pickguard.

Comes with gig bag. Selling as have my eye on something else I have wanted for ages.

Will be boxed and bubble wrapped for shipping, which I'm offering free as I would like it sold quick.

$300 would be dandy or Auckland pickup (Shore).
Last edited by
The Scarecrow
on Tue Jan 01, 2019 5:30 pm, edited 1 time in total.
http://www.facebook.com/#!/pages/The-Al ... 895?ref=ts
FYI, I'm NOT Scarecrow101 on Trade Me.... just The_Scarecrow