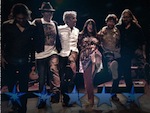 - Sun Nov 25, 2018 3:52 pm
#809345
Black Sg Special from 86. Love this but it seems to be the only guitar I've played since I bought it and I have several others I'm more attached to and neglecting. Does the D Trucks thing nicely.
Has a set of Ox4's onboard which I'm happy to remove and replace with the originals ( uncovered ). Pots have been replaced with some 500k cts. Originals included
1k with original pu's 1.3 with the Ox's shipped via TM.
Also have a Katana mini I bought recently as a Tv amp. Perfect for the job but being an old deaf bastard I'm back to a Rockerverb 50. Offers ? New condition , original packaging etc.
Pm M me with an email for more pics etc.
Last edited by
Dharmajester
on Fri Jan 04, 2019 7:26 pm, edited 2 times in total.