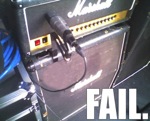 - Thu Nov 22, 2018 10:37 am
#808971
SOLD: Jackson Ampworks McFly amp and cab. In mint condition and perfect working order. I bought this recently, but circumstances dictate a necessary sale.
Top quality tweed McFly Fender-voiced head and 1x12 semi-open back cab with Celestion Gold.
The amp covers pretty much all of the classic Fender sounds, including Princeton, Bassman, Deluxe and Twin, thanks to some very clever voicing switches and a 'body' control. It also really excels with the more modern 6L6/6V6 rock tones, as highlighted in the first demo below, and the current speaker is really voiced for this, rather than the classic 'tweed' sounds. It also gets close to some more edgy AC15 tones too, with the bright switch engaged.
It is one of those rare amps that does not have a 'bad' sound anywhere in its settings. Power tubes can be selected from 2 x 6V6 (20w), 2 x 6L6 (50w), or all four of them together for up to 70 watts power. I personally love the 6V6 sounds, and it makes using this amp at home a viable option. But you can just flick it to 6L6s for more headroom at the gig. It also has (switchable) master power scaling so you can get the power-amp working hard in a small room without waking the dead. More info here:
http://www.jacksonampworks.com/shop/amplifiers/mcfly/
. As you can see from the pics, it is also compact, it is a light and easy to move rig.
Test pilots welcome.
Pics stolen from Conway

Some demos:
https://www.youtube.com/watch?v=xpdFcTKzivE
https://www.youtube.com/watch?v=gwbIUJGe9S0
https://www.youtube.com/watch?v=dOapeGsSIMA
For comparison, there is a new McFly head on TM right now at a price of over $5k, just for the head! And over 2k just for the 1x12 speaker. So this is a massive bargain. I'm just passing it on at the price I paid for it from Molly.
Will be very carefully packed for shipping. I kept all of Molly's packing materials.
I bought this recently from Molly, who had this to say about it. "
The attention to detail in these amps is just incredible, and they're very versatile. Watch these demos to see for yourself. For Fender tones it doesn't get any better.

EDIT: Took this rig to a 'Gearfest' today and had a chance to really turn it up with a band. It sounded absolutely glorious! Pure Mayer / Knopfler tones with the Strat and fantastic classic rock 'n' roll tones with the Tele. If it doesn't sell and I have to store it whilst I'm away, well, that's maybe a good thing... The buyer should film their own reaction the first time they turn this amp up. You'll be grinning like the village idiot.
"
Last edited by
olegmcnoleg
on Sat Dec 22, 2018 2:23 pm, edited 1 time in total.