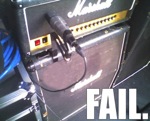 - Wed Oct 31, 2018 8:53 pm
#806733
S'ok, I'm just a bit wary of posting a price in case I get lynched on here.

For sale at $4k. The early Deluxes (70-73) for sale on Reverb are around $3500-5500USD, typically over 4kUSD. So I think it is good value. The later 70's ones you can pick up for $2500USD but I don't think they are as good, or as desirable. They often weigh a metric ton as well.

Local folks are welcome to try before you buy, as usual, and I might do a partial trade if something tickles my fancy.