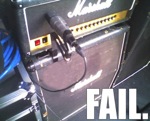 - Wed Oct 31, 2018 10:50 am
#806652
I'm considering selling this:
It is a genuine '72 deluxe, with an extremely rare factory finish in sweet cherry red (not to be confused with wine red, or red sparkle). It is not heavy, weighs < 10 lbs. Lollar Imperials have been fitted, the best vintage humbucker I know. The wiring is tricked out, the volume pots are push-push to split the coils and the tone pots are push-push to swap the tone capacitor values (moving it from thicker to brighter voicing). I also have the original wiring loom and pots, from 1972, but not the pickups. It has been refretted, frets are almost new. Apart from that, it is original, and in really good shape (no neck or headstock damage). Comes with original Gibson case, and I think I have the pickguard somewhere. It is well set up and it plays and sounds great. Some genuine relic-ing too. I have a bunch more pics if you are genuinely interested. I'm not planning to give it away though.
Both Slowy and Nik have played the guitar, so you could ask them about it if you want a second opinion.
Last edited by
olegmcnoleg
on Wed Oct 31, 2018 4:10 pm, edited 1 time in total.