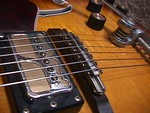 BY
H671
- Thu Oct 11, 2018 8:13 pm
- Thu Oct 11, 2018 8:13 pm
#804571
I'm sure that most of you know of these & how good they are.
Point to point wiring.
The reverb is the same as the stand alone units.
It has one original speaker and two webers.
Made in August 1996. Has the better 6V6 reverb valve - the earlier models used an el84.
Not too heavy - weighs 30kg.

A great amp but more than I need at the moment with playing Bass much of the time.

Looking for $2800.



I'll add some more photos tomorrow.

Some sound demo's.





Last edited by
H671
on Fri Oct 12, 2018 10:49 am, edited 1 time in total.
Gibson 335, Harmony H671, Epiphone Riviera & EJ200CE, Greg Bennett RL4 LTD, Hagstrom Viking Bass, Doubleneck bass/guitar.
Fender Champion 600, Ramparte, Excelsior, Vibro King, Rivera Clubster 45, SWR California Blonde, Ashton BSK158, Behringer Thunderbird Bass.