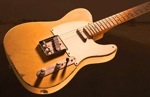 BY
Reg18
- Thu Sep 13, 2018 5:40 pm
- Thu Sep 13, 2018 5:40 pm
#800907
So I just bought a pedal I didn't really have permission to buy so need to try and pay for it by offloading some of my parts drawer bits.
Possibly more to come.
Tremolo pedal, sounds like a vintage trem, solid boss style housing. $50
Eminence 6.5" 4ohm speaker 20watts
I still have one of these in my 5E3 head and it works very well. Ideal for a small amp project.
$50
Last edited by
Reg18
on Sat Sep 29, 2018 2:33 pm, edited 2 times in total.