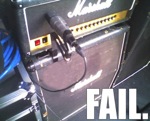 - Wed Sep 12, 2018 9:56 pm
#800784
Did a silly thing and bought a guitar.
So I need to raise some cash
The following are for sale, PM me for more details and I'll add some photos tomorrow.
SG IS SOLDJohn Page Classic Ashburton HH is soldMaybe my Aria Pro II TA (335) guitar
. Ex Slowy. The best 335 I've ever owned and not made by Gibson. Made in Japan, for the domestic market, you don't see many of them out of the country. Has Seymour Duncan spendy Seth Lover pickups fitted. Hard case. Sort of burnt sunburst. Sounds very Larry Carlton--super smooth but with heaps of character & depth. $1500. It is superbly built and finished and it plays perfectly.
Slowy kindly posted a picture of it further down the thread. It is in mint condition.
Here is a link to the manufacturer's blurb...note cool slotted centre block design. This is the same finish as mine too.
http://ariaguitarsglobal.com/product/ta-tonic/
Last edited by
olegmcnoleg
on Fri Sep 14, 2018 5:26 pm, edited 9 times in total.