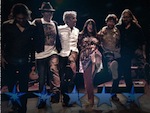 - Fri Apr 13, 2018 1:21 pm
#781618
Bought this a few months back to use in my Powerstation fx loop. Since then have added a Twin to my setup so the Headroom is surplus.
Paid $250 US plus shipping etc. Looking for the same Nz dollar amount. Open to offers ( cash )
Brand new condition, missing one rubber foot pad ( came like this and couldn't be arsed to complain ).
Great sounding shimmery old school Spring unit. Can be set with two different levels of verb, foot switchable between them.
Check out the YouTube demo vids. Can throw in a Roland 3 way footswitch.