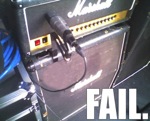 - Sat Mar 31, 2018 5:27 pm
#780348
REDUCED TO $500
This acoustic guitar is a Walden Concordia CG2010--a top of the range guitar. It is modelled after a Taylor X14 guitar, and is the same dimensions. Solid spruce top, solid rosewood back and sides. The rosewood is nicely figured. I got this one from Bender in a part trade with the intention to sell it on, but I ended up liking it and playing it quite a lot, so it joined the herd. It is loud, bright and very responsive. it is very well set up, so is really low and easy to play. It projects very well, and is astoundingly good for what it cost. To my ears, it is every bit as good as a Taylor 314. Comes with a hard case.
There is not much information on these more expensive Waldens online, but you can find a catalog here:
https://issuu.com/waldenguitars/docs/2012_walden_catalog_issuu
. There are a few YouTube reviews too.
The guitar is in Auckland, you are welcome to try before you buy. I can ship them if you are willing to pay for that.
Last edited by
olegmcnoleg
on Tue Apr 17, 2018 9:43 am, edited 2 times in total.