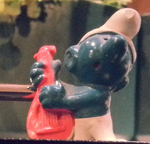 BY
Shimmer
- Tue Mar 13, 2018 4:39 pm
- Tue Mar 13, 2018 4:39 pm
#778413
Selling my Boss Flanger. This is one of the Made in Japan ones. Apparently pretty highly regarded, but I just never use it. Billy Corgan used to use/own one (if that makes a difference to you?)
It is in used condition cosmetically (paints chips and the like), but still functions as it should. Currently missing a knob but I can likely get a replacement...(?)
EDIT: Any interest at $100?




Last edited by
Shimmer
on Wed Mar 14, 2018 2:56 pm, edited 1 time in total.
I want all the pedals!