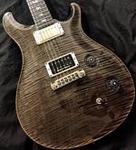 - Fri Feb 23, 2018 8:16 pm
#776313
1. PRS Modern Eagle 2 in Red Tiger Nitro Finish
This may need no further introduction, but for those who aren't in the know, they are a poor man's Private Stock when it comes to wood selection and build. This is 2008 model, first ME2 production with pickups called ME2, later on found out to be early 57/08s.
The Indian Rosewood neck plays like a buttah, and really fun to play. Not to be confused with the Braz version, the ME1s have the Braz neck and board. Putting this for sale due to some non gas related projects.
Anyway, review is here:
https://www.premierguitar.com/articles/ ... _II_Review
Some nicks as shown on the photo, and the back has nitro finish cracking/crazing (talk about Gibson relic) can be seen if directed to light but otherwise not so obvious from some POV.
$3300 ONO with eagle tag, papers and OHSC
Specs:
2008 PRS Modern Eagle II Red Tiger Nitro Finish
Flame Maple Artist Top
Select East Indian Rosewood Neck and Fretboard
Wide Fat Neck
Abalone Birds with Paua heart
Abalone Eagle Headstock Inlay
Hybrid Hardware
PRS Stoptail
Scale Length 25"
PRS 57/08TM Pickups - Modern Eagle II Pickups
Three Way Switch
Master Volume - Master Tone ( Push / Pull Coil Tap )
22 Frets
Nicks
Cracking/Crazing on the nitro
2. MESA Rectoverb Head and Cab
as set = S1800
Can be sold separately but the head needs to go first
Head = S1400
https://www.rockshop.co.nz/shop/mesa-bo ... everb.html
Cab = S600
mini rectifier slant 1x12 cab with Celestion V30.
https://www.rockshop.co.nz/shop/mesa-bo ... slant.html
Here it is pictured with my number one fan!
3. Seymour Duncan Black Winter Bridge
-Bought bnew and installed on my PRS for low tunig
-Recently decommissioned as a set of Dragons are now on the guitar (shown on my profile pic)
-with box, manual, screws and springs
$110
4. Washburn N4 ESA
1996 USA made
Ebony fretboard
Swamp Ash body
Fretlife is around 90%
-it's got the N4 Vintage look due to its age
-Tremol-no installed
-Backplate and nut bolt as well as trem are are included
-no case included
-Nuno Bettencourt signature on the body
$1500
No Trades on all items, Cash is king!
Will allow courier but split on fees.
Last edited by
faceless
on Fri May 11, 2018 2:23 pm, edited 6 times in total.