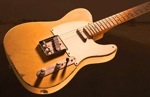 BY
Reg18
- Mon Nov 13, 2017 3:07 pm
- Mon Nov 13, 2017 3:07 pm
#764063
This was going to be my next project but I've since spotted a Jazzmaster copy I'd like to get as well.
This guitar could do with a decent neck if I'm honest, it's straight and plays ok but it's a very flat radius (I'd say at least 12" radius) and it just doesn't work for me.
It has a few dings etc.
It does have a Seymour Duncan Alnico Pro 11 bridge pickup and the neck pick seems to have been upgraded as well but I can't find any writing on it to confirm what it is.
An excellent place to start for a good Tele project!