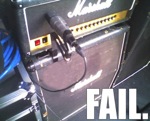 - Fri Nov 10, 2017 8:32 pm
#763815
This is the most versatile Fender amp I've ever encountered. The clean channel offers the choice of 2 different tone circuits, either vintage 1965 Vibrolux (same as Deluxe) or 1966 Bassman tone, the burn channel is just great for blues and rock, with two interactive 'drive' pots to give you anything from Texas blues to full on saturated, violin sustain. The Vibrolux circuit gives that glassy Fender Deluxe-style clean, the Bassman notches up the gain and the warmth and brings the amp right to the balance between clean and overdrive. The cab is an oversize 2x12 with Celestion V30 speakers. It sounds just huge. Looks nice too with blond finish and oxblood speaker cloth. And it has chrome tilt-back legs (original) and you can tilt the head back too, as it locks onto the cab. And because it is 60 watts, it has clean headroom for days on the Deluxe setting. Has a foot-switchable effects loop, with separate send and return volume controls so you can use the loop as a channel boost, a poor-man's attenuator to keep the volume down or even to switch your effects out

Comes with the original footswitch (3 button), and brown Fender covers for both the cab and the head. The rig cost $3,600 new. Condition is excellent, no rips, very minor wear. No issues at all. The only reason I'm selling is because I have ended up with 2 of them (long story).
Read the reviews if you are in doubt... It sounds just as good as a Deluxe or a Bassman reissue, but you get both, plus a great overdrive channel.
And here are a couple of demos to show you what this amp can do. Check out the playing in that first one ... holy crap that is good.
https://www.youtube.com/watch?v=B4z9g2NoKF8
https://www.youtube.com/watch?v=jq-6xhNm8Xc
Tech stuff:
Output: 60 Watts
Ohms: 4, 8 or 16 ohms switchable
Channels: 2: Vintage and Burn
Controls: Vintage Channel: Volume, Treble, Bass, Voicing Switch (Vibrolux®/Bassman®); Burn Channel: Gain 1, Gain 2, Treble, Bass, Middle, Volume, Rear-Panel Effects Send/Return Level Controls
Covering: Blonde Textured Vinyl
Tubes: 2 - 6L6, 5 - 12AX7, 1 - 12AT7 (effects loop is tube-buffered)
3-button footswitch and Fender Covers Included
It is in AKL, pickup would work best I think.
Might swap for the right guitar, but cash also works.
Last edited by
olegmcnoleg
on Mon Dec 04, 2017 11:48 am, edited 2 times in total.