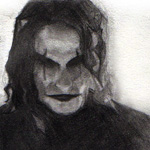 - Fri Nov 10, 2017 9:58 am
#763708
So, I've had to send the family feline in for surgery today due to an infected abscess in the jaw that will require teeth removal.

Cue unexpected cost

As such, I'm open to any reasonable offers on any of the following items I've got for sale.
- Cort MBC1 Matt Bellamy signature
- Ibanez AXS32 & hardcase
- LTV Viper 400 & softcase
- Blackstar HT 100 Stage 100w 3x channel tube head & 4 button f/s
No holds/trades please and must be able to pay what you offer (if accepted) by Monday.
I'm happy to ship the guitars at your cost and risk, but amp is too heavy/too much hassle to ship.
PM to discuss.
http://www.facebook.com/#!/pages/The-Al ... 895?ref=ts
FYI, I'm NOT Scarecrow101 on Trade Me.... just The_Scarecrow