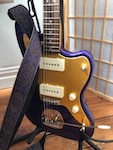 BY
HackSaw
- Tue Aug 08, 2017 10:20 am
- Tue Aug 08, 2017 10:20 am
#751668
zvex super-seek tremolo $300

Mr Black Double Chorus $200 (brand spanking new)

Fuel tank Jnr (also brand spanking, with mounting bracket) $150

DOD/Blackarts Boneshaker $100 (it's bugger all more than the US40 one would have cost. Just go for it!)

Lovepedal Gen5 $100 (this is lovepedal's carbon copy, this is a stupid price!)

iRig Stomp $40

Joyo JP-02 $40 (US plug with an NZ adapter duct-taped on)

A bunch of patch cables, maybe 8 x 6 inch, 3x12 inch. fender, dimarzio, guitar-fetish, hosa. $2 & $3 each? Will count up when I get home for clarity, prefer a bulk sale. Also several instrument cables, will update. Actually all sorts of cables, trs, xlr. feel free to express an interest, I will itemise them all tonight.

Good way to start a pedal board for cheap!
Last edited by
HackSaw
on Fri Sep 22, 2017 8:36 am, edited 8 times in total.