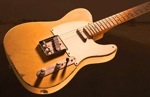 BY
Reg18
- Tue Aug 08, 2017 7:00 am
- Tue Aug 08, 2017 7:00 am
#751642
Brand new a week ago, has Velcro on the back but otherwise like new.
This is the latest compressor from Keeley which has the advantage of a blend knob and a single coil/humbucker switch which I think changes the attack/release settings.
Can't find a bad review on the net!
$210 + shipping
Last edited by
Reg18
on Tue Aug 08, 2017 7:03 am, edited 1 time in total.