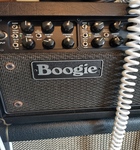 - Tue Feb 12, 2019 8:17 pm
#818015
Hey team
Have this solid state power amp from Seymour Duncan for sale. Its primarily for amplifying modellers and preamp, but it does a nice job of being a clean channel if you want to add in some reverb and dirt pedals. It would stand up as a good backup rig.
Rated highly from Dan and Mick and TPS, highly regarded from guys with Fractal products and Kempers. Its stupid loud and stays very clean, had it pushing a 2x12 and never went above 10 o clock. Looking for $600.
Would trade for a Katana head.
All rock and roll bands are on the verge of breaking up at all times.