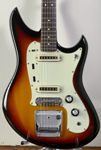 BY
jvpp
- Thu Nov 24, 2016 7:00 pm
- Thu Nov 24, 2016 7:00 pm
#717341
May as well post the occasional update in its own thread rather than putting things in "Just Saying".
After the feedback from BG and others I have bought a cylinder rotary rasp. It really takes the edge away in a hurry on a high speed drill

Borrowed a grinder as the Bunnings suggested one was sold out in my local shop. Couldn't be bothered to drive towards Remmers for the next Bunnings.
I'll buy the grinder flap thingy tomorrow for removing the flatter areas.
So I focused on one horn and looks like it is going to be quite an arch. Totally unlike a Gretsch, or at least the one that I have. May have to start with a thinner board next time... Sigh!
Anyone knows what the typical archtop board thickness is prior to starting carving?
See that blimmin knot? What a pain to carve that.
"Watching Netflix is not an event, it is the most mundane activity imaginable, as automatic and unthinking as performing a bodily function."