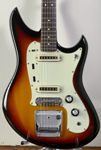 BY
jvpp
- Wed Nov 14, 2018 5:35 pm
- Wed Nov 14, 2018 5:35 pm
#808204
RectifiedAmps wrote:

jvpp wrote:Noise floor (hum) is there but not too much. I would be interested to hear how the grounding scheme can be improved. Re individual caps, point taken and will modify the BOM.



Ok, here's what I would do:


There should be three earth connections (to the chassis) - the earth wire from the mains lead/IEC socket (for safety), the output transformer secondary and the grounding bus from the rest of the circuit. The OT can be earthed to the chassis at the speaker jack for convenience - shouldn't cause any issues in this design. The mains wire can be connected to chassis near where the cable/IEC socket enters the chassis for convenience (use a separate, dedicated nut/screw and not a transformer bolt or other mounting bolt).

The audio grounding/power supply bus should only be connected to the chassis at one end - the input jack is a good place, provided you're using a metal switchcraft style jack. Or you can just solder/bolt the end of the bus wire to the chassis as close to the input jack as possible. Keep all the same-coloured grounds as close together as possible - don't worry about it too much, but at least try to keep them in the proper order. It probably won't matter as much where you ground the cathode resistor of the power tubes - you could just attach it to the chassis next to the valve sockets if that's easiest. Then the heater/filament centre-tap attaches to the EL84 cathodes (pin 3).

This *should* result in a hum/buzz-free build but other build issues like lead dress and stray inductance from the transformers can always muddy the waters.
Wow, that is a very detailed response. Thanks so much. I'll have a look at a turret board layout for this thing to see if it can incorporate your advice. Personally, I like the old fashioned terminal strips approach, looks much more messy which kinda appeals to me