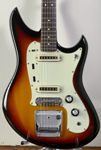 BY
jvpp
- Thu Nov 08, 2018 8:17 pm
- Thu Nov 08, 2018 8:17 pm
#807562
Slowy's Jansen 4/twelve special received quite a good reception at the Bollix gearfest. So much that I am tempted to build one in a similar vein. I say similar, as it is an old amp, and lacking some modern safety features and also someone has been in there before I poked around!!! A few capacitors and the odd resistors have been changed, so impossible to draw up an original circuit diagram. As I was allowed to perform non destructive investigation only, I measured the resistors in circuit. I found quite a few had drifted to much higher values, so rebuilding the amp with the values as indicated by the colour bands, may slightly change its character perhaps. More knowledgeable people will hopefully come to the rescue.
Anyway, thanks to Slowy for allowing me access to the guts of this little beast. I don't think he is missing it much at the moment, seem to have fun with something burgundy...
Necessary safety improvements I would like to make:
a - Put a fuse in the mains supply as a minimum
b - Place a 10nF capacitor in the input circuit on V1 to decouple the guitarist from high voltages in the unlikely event that V1 grid shorts to anode.
Observations:
- Input circuit very much Fender early days
- Tone stack simple but very effective, ie, works well
- No resistors and caps in the power section, other than the biasing.
Questions:
1 - What likely value is C5? It is a pipe capacitor but no value is shown. My guess would be about 1nF or so seeing it is part of the treble filter.
2 - R17 and R18 are in series. Why use two resistors and not a single one? Also these two resistors measure 390K each in circuit!!! That is a hell of a change.
3 - What should the wattage be for the HT supply voltages (R20, R21, R22)?
4 - I would like to change the rectifier section to a full bridge one to allow for a smaller transformer. Good idea? Impact on tone?
5 - What is a ECC803S? Equivalents?
6 - Anything wrong or unexpected with the circuit diagram?
I hope the well respected amp builders on this forum will chip in so I can finalise the circuit diagram in preparation for building one.
The resistor values are as per colour bands, not measured values.