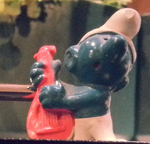 BY
Shimmer
- Wed Apr 11, 2018 9:23 am
- Wed Apr 11, 2018 9:23 am
#781442
Yesterday I made a little breadboard guitar amp - <0.5W of solid state power from a LM386 Chip, powered from a 9V battery.
I followed the instructions from:
http://www.ampmaker.com/infocentre/forum-37.html
I used an old Sony bookshelf speaker. I removed the top two speakers leaving just the larger bottom one. The guitar input goes where the top speaker used to be, and the LED is where the small tweeter used to live. The 9V input is on the lower left when facing the amp. Not as retro looking as cigar box amps, but still up-cycling!
The breadboard showing the huge number of components!
Mounting the board.
The finished product

I want all the pedals!