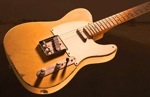 BY
Reg18
- Mon Nov 13, 2017 10:54 am
- Mon Nov 13, 2017 10:54 am
#764014
]After playing Matt's Plexi at gearfest ive been counting my penny's and as usual I'm miles off being able to afford one.
However I came across a mod to the 5e3 circuit which makes it fairly close apparently.
I'd leave the bright channel as it is because it's awesome and shouldn't be touched. However I never play the normal channel and rarely blend it in with the bright.
So for not a lot of money I could convert my normal channel to Plexi style circuit.
Should I?

I've already had Baja Electronics install a MV on the amp and a 3 way NFB switch so it's not unmolested anyway.
Will modding it further devalue it more?