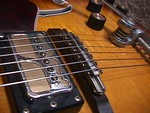 BY
H671
- Thu Aug 03, 2017 3:00 pm
- Thu Aug 03, 2017 3:00 pm
#751050
The jewel light is intermittent & appears to be some form of LED.
I can't see any obvious way to remove it. Is it possible to do so, or do I have to replace the complete assembly?


Last edited by
H671
on Wed Aug 09, 2017 4:57 pm, edited 1 time in total.
Gibson 335, Harmony H671, Epiphone Riviera & EJ200CE, Greg Bennett RL4 LTD, Hagstrom Viking Bass, Doubleneck bass/guitar.
Fender Champion 600, Ramparte, Excelsior, Vibro King, Rivera Clubster 45, SWR California Blonde, Ashton BSK158, Behringer Thunderbird Bass.