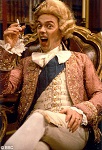 BY
GrantB
- Fri Mar 01, 2019 2:04 pm
- Fri Mar 01, 2019 2:04 pm
#819640
I'm looking for someone with a fact based view on patch cables, connectors and shielding.

A while back I purchased some high end audio signal wire. It is fully shielded like normal guitar patch cable but it is all very thin. The wire is silver coated fine copper wire and I've used it for signal transmission elsewhere with no difference in performance to anything else.

I have to make some patch cables for my new board and I would like to use this wire as it is super thin and easy to lay out. Plus, it cost me heaps and I need to justify owning it!!

I'll post photos soon, but any issues with this approach? I intend on soldering the ends to standard plugs without the plastic bits on them. I make my own shields out of heat shrink tubing.
"Man is the most insane species. He worships an invisible god and destroys a visible nature. Unaware that this nature he's destroying is this god he's worshipping." - Hubert Reeves