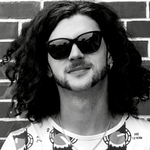 - Thu Jun 06, 2019 10:55 am
#829137
I love this thing. It's quirky, it's heavy, it's bold, and it'll do anything you ask it to.
Master volume and tone, coil tap + phase reverse + 3 way.
Gotoh tuners. Refret last year (bg will confirm), set up for 11-50 iirc.
Pickups are Wilkinson "hot paf" alnico 5. Very clear, very bright, and with all the grunt behind them they tap very well.
If you're going to buy this guitar, you need to like a big neck. Thickness is about 23mm at the nut and not at all contoured: it's one width the whole way down.
I think I'm asking quite a fair $650 with a hard case.
Edit
: $500, no case.
[/img]https://i.imgur.com/4HaOfTw.jpg[/img]
Last edited by
Single coil
on Tue Jul 23, 2019 2:25 pm, edited 3 times in total.
werdna wrote:Well at least I can still make toast in the bath without anyone telling me it's unsafe.