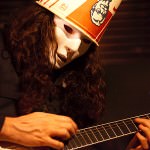 - Wed Oct 03, 2018 8:15 am
#803466
Hey guys. I recently took my Ibanez guitar to a local luthier to get some fret work done + a general setup. I got it back and the frets looked amazing. The locking nuts weren't locked - I guess to allow the strings to stretch first?
Basically I got the setup done, but it's still giving me issues. If I pull the whammy bar up or down, then it doesn't return to pitch. I guess what I'm asking is, when taking a guitar in with a floyd rose setup - do you still have to do things when you get it back, or should it be gig worthy once you receive it.

I paid quite a lot for custom pickup rings, a setup and a fret crown ($200+).