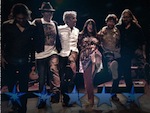 - Fri Mar 09, 2018 6:18 pm
#778037
Ok, I'm sure most of you have seen my Oxblood R4 on the occasions I've had it up for sale.
Still planning on selling it as I have an R7 I prefer ( and less time to play )
As I mentioned in the thread Werdna started on detecting hidden flame, it has flame beneath the top coat. I actually did the led white paper test on it today and the flame appears to be even more extensive than I previously thought so what are the forums thoughts?
Strip it or leave it. I'm dying to see what it looks like but don't want to stuff the resale value. To me I would think it's more desirable as a flame top but I'm frequently and increasingly wrong about many things.
Cast your votes. Keen to hear what Grant has to say.