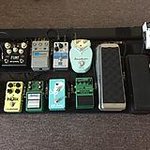 BY
sirvill
- Tue Mar 13, 2018 2:43 pm
- Tue Mar 13, 2018 2:43 pm
#778399
GrantB wrote:I shall amend my post to show only true offset guitars. But I would argue that sloping forward only is half the story - what about guitars that have the higher part of the body sloping further back?

As per Gibson offsets?
Are any Gibsons actually offset?
Firebirds and Explorers have a symmetrical waist - they appear offset but actually aren't.