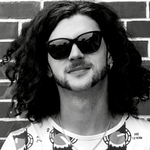 - Mon Jan 15, 2018 6:28 pm
#770809
Found one of these as a wreck on the tard.
We had one at high school (in heaps better nick) which I tried to buy off the music teacher some years later.
Anyway here we are, whatever, let's get on with the reveal, and then I'll post some yuck ass gore photos:
1983 Aria pro II CS250.
Things I have replaced, and why:
Bridge
The original bridge is really cool. It is recessed into the body; clever design that goes hand in hand with the neck which extends all the way under the neck pickup. Unfortunately, it only came with two and a half saddles. I tried so hard to find replacement saddles but ... Nah. Rocking horse shit. So I took a punt on a hardtail and made it work.
Fortunately, I didn't need to make any more holes or anything. Pretty cool!
Tuners
Originals were old and tired. When I bought the replacements, I thought they'd line up with the existing holes ... Oops.

Not that it's a collectors piece or anything, lol.
All the wiring and electrics, except the pickups and 3 way toggle
Had no idea if it all worked or not. Does now!
Nut
Original was fucked.
Fret level and dress, lots of pissing round to straighten the neck, a simple setup and here we are!
Right. That's that, now here's some gore. She was in a right state.
Here are the frets
before
I got to them. Note the amount of shit on the board.
Buggered nut:
Missing ferrule

(replaced with a gotoh set lol)
So. Much. Crap.
The OG bridge plate:
Saddles gore ... The originals are offset, so the strat style ones kludged in there weren't going to work in any universe.
Broke the knob (???) glued it and fixed it though

The original jack, which was ... soldered in, really poorly, and had fuckin'
sellotape
around the join . . . Then the jack was so rooted it was stuck in the plate. Got there in the end.
Old wiring:
A successful rendition, but I didn't know that yet

... And that's that. So now I hope I get to keep this one, cuz I really don't want to have to flog it off.
Last edited by
Single coil
on Tue Mar 13, 2018 10:19 am, edited 4 times in total.
werdna wrote:Well at least I can still make toast in the bath without anyone telling me it's unsafe.