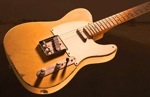 BY
Reg18
- Sat Jan 06, 2018 9:17 pm
- Sat Jan 06, 2018 9:17 pm
#769822
What size frets are people's favourite?

Material type? Stainless or nickel
Silver?

An insert from something I found online about Dunlop fretwire.
6230: The smallest fret wire found on older Fender necks (.078″ x .043″).
6150: Vintage jumbo. Much wider but not as tall as 6230 (.102″ x .042″).
6105: Modern narrow and tall; currently very popular (.090″ x .055″).
6100: Jumbo. The largest fret wire available (.110″ x .055″).
6130: Medium jumbo (.106″ x .036″).

For the poll I've just narrowered it down to small, medium, medium jumbo and jumbo.
However any other types options can be discussed below.