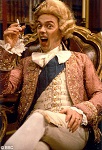 BY
GrantB
- Fri Oct 05, 2018 6:37 am
- Fri Oct 05, 2018 6:37 am
#803749
Slowy wrote:

Litterick wrote:Things are looking up, according to Bloomberg:



The company can now exit bankruptcy under a new board of directors, a majority of whom will be guitar players, said Matthew Ross, the KKR director who led the private equity company's takeover effort.



https://www.bloomberg.com/news/articles/2018-10-03/gibson-guitar-fans-at-kkr-lead-rock-music-icon-out-of-bankruptcy


"I will continue to aid Gibson for at least a couple more years, and my mission, really, is to pass on the knowledge and the tools to allow the next generation of management to really excel and bring the brand to a whole new level," Juszkiewicz told Guitarist recently."

Hopefully this is no more than a face saving exercise.
Agreed. Like asking Kenneth Lay to hang around to pass-on how he ran Enron.
I heard a good saying this week - if you want to own a small company, buy a big one and get accountants to run it. I hope this doesn't become Gibson. I haven't had a response to my application for CEO. Maybe the request for one new R9 every month as a fringe perk was too much.
"Man is the most insane species. He worships an invisible god and destroys a visible nature. Unaware that this nature he's destroying is this god he's worshipping." - Hubert Reeves