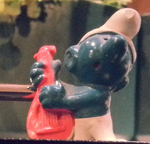 BY
Shimmer
- Tue Aug 21, 2018 3:03 pm
- Tue Aug 21, 2018 3:03 pm
#798180
Kloppsta wrote:

Shimmer wrote:Picked up the Vox MV50 clean yesterday



sweet! what are your thoughts so far? i am about to get one too for a small "pedal platform" amp to use with my pedals and mesa 2x12 cab.
would you describe it as voiced like a bf fender?
I love it! But my experience with amps is very limited so I would not have a clue if it is voiced as you describe.
But it definitely seems to have a lot of headroom. I have the small Vox BC108 (the 8inch speaker that kinda came with it). Keen to try a second one, or a bigger cab later - I reckon your mesa cab would be great.
I wish the power button was bigger and more accessible.
I tried out the AC as well, but given I use pedals, ended up with this. (Unsure how loud the cleans would stay with the AC version).
I want all the pedals!