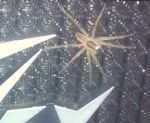 BY
JHorner
- Fri Feb 02, 2018 5:28 pm
- Fri Feb 02, 2018 5:28 pm
#773282
chur wrote:Thanks to Molly for the PT Pro, I now have a pretty solid board. The switcher is a little glowy at night, so might have to add some bigger resistors to the blue LED's to calm them down, but they aren't like lasers in your eyes at least.

Spent an hour today chasing a horrible hum, ended up being the Wah, which due to me removing the rubber feet to aid with sticking the unit down, leaving only the bare screws on the base, has scratched through the PT black to the chassis, and was causing some weird ground loop with the power supply unit. Sorted now though with a bit of tape.

I had visions of the underneath wiring being a piece of art... yer that didn't happen. Dunno how people have the patience.

https://photos.app.goo.gl/wYNnbXRThikUHnsb2

https://photos.app.goo.gl/TwEUg4k5sszptgRL2

btw, I'm not left handed, but I find the Wah etc on the left so much more natural.
What are the stubby straight plugs going into the switcher and where did you get them?