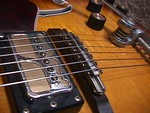 BY
H671
- Sun Apr 07, 2019 4:21 pm
- Sun Apr 07, 2019 4:21 pm
#824206
Mini Forklift Ⓥ wrote:I would be leaving that one as it is, nice find. Just lovely.

Always wanted a guitar from the Year I was born for some reason.

You're lucky that you can find one in your birth year - strats were not invented when I was born

Gibson 335, Harmony H671, Epiphone Riviera & EJ200CE, Greg Bennett RL4 LTD, Hagstrom Viking Bass, Doubleneck bass/guitar.
Fender Champion 600, Ramparte, Excelsior, Vibro King, Rivera Clubster 45, SWR California Blonde, Ashton BSK158, Behringer Thunderbird Bass.