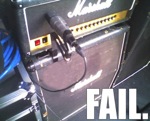 - Mon Apr 16, 2018 10:01 am
#781851
Molly wrote:

olegmcnoleg wrote:

Molly wrote:
That a John Birch? Had a DC of his once.

Edit. It's a John Diggins (JD). He made Mark King's basses.



Yes, the great John Diggins, or Jaydee

I had a Strat made by him. It was awesome. Had a through neck, just like his basses. Wish I had kept it



Would that be the JD Hooligan?
No, it was a very traditional looking Strat, except for the through neck. He only made a handful like that.
At one point I called him up to ask for details, he's a really helpful bloke.