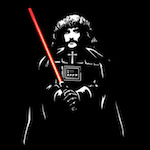 - Sat Jun 30, 2018 12:34 am
#791681
I am a riff enthusiast. There are lots of things I like about the electric guitar and rock music, but the thing I love most of all is the epicness of an epic riff.
There are many different reasons to love a riff - often it is the rhythmic pattern, sometimes it is the melodic phrasing, a lot of times it is just the sound of the guitar.
There are plenty of riffs that I reckon are magic, but I started thinking about which ones have had a real lasting influence on me. And I made a list. And now I am sharing that list with you... why not. It is a long list - sorry, I got carried away.

Anyway, what are you all time favourite riffs? Here are mine:
Jailbreak. Pure simplicity. This is mostly about how awesome Malcolm's guitar sounds.
20th Century Boy. So much groove. The bends are perfect and the guitar sound is beyond cool.
Breadfan. This one I used to play pretty much every time I picked up a guitar. The rhythm is key I think.
2 Minutes to Midnight. The riff that made me want to play guitar in the first place.
No Class. This one almost seems too generic - it is basically identical to Tush, right? But that is kind of what makes it timeless. And the bass makes this way cooler than ZZ Top.
Negative Creep. The guitar sound is perfect. This thing blew my mind when it came out.
Twist of Cain. This one right here. This is probably the single biggest influence on me out of all of them. Even more than Iommi, this is what got me addicted to the devil's interval, the diminished 5th.
The rest all kick in part way through the song, and I can't figure out how to embed with a specific start time. Hence links.
Battery. I had to put some Metallica on the list. This introduced me to the joys of palm muting. I still can't get my head around how Hetfield manages to play and sing this at the same time...
https://www.youtube.com/watch?v=md3B3I7Nmvw&t=1m5s
In the Meantime. I love single chord riffs, and this is the king daddy of them.
https://youtu.be/mWwhdINdMs8?t=35s
Sabbath Bloody Sabbath. One of the finest from the God of Riffs.
https://youtu.be/yuVmjv22Nqc?t=4m6s
In the Light. Love the kind of seasick rolling rhythm and the middle eastern phrasing.
https://youtu.be/pNo1nS_JV5k?t=3m00s
Rock n Roll Damnation. More essential Malcolm Young.
https://youtu.be/i__LRINO2oI?t=15s
Funeralopolis. Heavier than heavy. This song has three great great riffs, but this is the apex.
https://youtu.be/F-x6qqNy0mo?t=4m54s
Into the Void. Another song with multiple great riffs - the intro and the outro are also top shelf. But this one is the most fun to play.
https://youtu.be/xx6IwshTL6M?t=1m14s
Hunted Down. This was a big influence on me as a teenager, and that kind of chromatic run has stayed with me.
https://youtu.be/4WmKBvDHXaE?t=17s
Psychoholic Slag. More one chord magic. This whole album is full of epic riffs.
https://youtu.be/ANLPDFfdvrM?t=4m25s