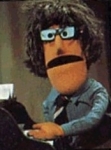 BY
Miza
- Thu Mar 07, 2019 1:55 pm
- Thu Mar 07, 2019 1:55 pm
#820539
Here's the dilemma. My '78 Maton has a built-in pickup, not sure if it's UST or Piezo, but it sounds ok (typical compressed, quacky sound). Over the summer I acquired a LR Baggs M1a, an active magnetic soundhole pickup (what Gilmour uses

). With a moderate amount of EQing, the M1 does sound better, but after a bit of A/B testing, I decided I like the sound of both blended together, which I am able to do thanks to the dual inputs of the Radial Tonebone PZ Pre.
Since the Maton already has an endpin jack (mounted on a rather large steel plate) I'm not sure where to install the second one for the M1. I could put it above or below, or around the corner where an electric gat's jack would be. Or, I could source a stereo jack and replace the one that's there. But this would mean I'd need to use a stereo instrument cable and some kind of stereo signal splitter box on my board?
Keen for advice, or better ideas. Cheers.
TL;DR version: I have two pickups in my acoustic and need a jack for each but not sure if they'll fit. Should I make em fit or use a stereo jack+cable?
Nothing to see here.