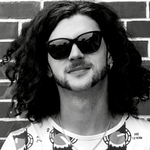 - Fri Dec 01, 2017 6:48 pm
#766414
This week(ish) we're tidying something up, unplugged.
My my, what has James found now?
A Yamaha solid top acoustic.
... With 12 strings.
It took me a while, but I figured out what the serial means:
4 = year
08 = month
15 = day
079 = unit/production number.
So, she's a 33 year old Taiwanese girl, having been made 15th August 1984. Confirmed with the last owner that she's an '84.
Looks to have had a refret, but she's sat for a while too.
Gloss finish - Should be able to cut this sorta surface scratching out.
Has a couple dings, but nothing to write home about.
And my god, look at the back on it!
This was not a cheap guitar, with all this binding and care taken in putting it together. Not sure if the fretboard is rosewood or ebony - Looks like really dark rosewood, but the saddle appears to be ebony.
No scarf either - One piece neck apparently suggests it was a higher end product.
Yes, I've taken the tuners off already. Two are missing their buttons (and screws

) - I expect this will be a
replace the lot
type deal.

Little
Japan
imprint from the embossing on their reverse lol.
Another ding - not forgetting it's 33! - I don't think I can buff this one out.
Pearloid type inlay - Unfortunately the headstock grainy nice bit thing is just a veneer.
Plenty of guff on the (rather dark, bound, and well inlaid) fretboard.
You can see the fretwear is just next to null.
Bath time!
Yip - All those pictures above are
before
pictures. Tidy old thing, but we can do better.
After a gentle wash down:
Some wear evident in the actual board now, but still very pretty.
Managed to knock the nut off. Oops. No big though.

Makes this easier, and I mean - I've got better at masking.

And green down this end. Covered in gunk, but the frets are lookin pretty.
Managed to knock the end pin out too, so I took a couple pictures though that little hole (oh, my!).
Probably not pictured: First sunshower I've seen in fuckin yonks.
After a proper polish, and hanging up waiting for the wax to dry.
Yummy shiny frets.
Fretboard clean coming soon.
Aaaaay, new lemon oil!
Aaaay, new lemon oil after I
fucking spilt most of it, dipshit!





Nut back on, oh my etc.
Headstock veneer came up great.
Beeeeeeautiful side grain.
Saddle after oiling too, but in shitty light so it looks blue.

I just think it's such a pretty thing to look at.
Nut actually going on for good now.
All these can wait for their polishing time to come - I don't think I'll be able to find two buttons and their screws, so new tuners will probably be the go.

That's about as much as I can do for now without tuners, so let's proceed to round two: The case it came in.
... With a broken handle.
Little stud things are ballpein hammered (burled?) down, and I couldn't quite get the hacksaw in there, so ya know fuck it.
Safety first - earmuffs and safety glasses were worn.
And here we are - A bare frame thing.
Obviously handle repair isn't my forté, but I'll give it a hoon - it will be completely reversible if the next guy doesn't like it.
Can you guess what's going on?
The handle is 3 pieces; the 45 degree joins have wood screws through them and pva in the middle to keep them together.
Hinges (ish), just ... Not pretty. Function over form here.

Ok I guess there's a little bit of form (and protecting the wood).
Then black epoxy enamel (which still isn't dry almost 30 hours later


)
That's as far as I've got with all of that so far - When I can afford tuners (ironic) we will get back to "reassembly", but ideally I'd like somewhere to put it first, so I'll get a grip on it all and try handle that aspect first.
No?
I'll get my coat.
werdna wrote:Well at least I can still make toast in the bath without anyone telling me it's unsafe.