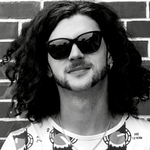 - Mon Sep 25, 2017 6:53 pm
#758580
Today I went down the music shop with my tele, to see if the dude would hire me or whatever to do basic work (optimistic?Worth a try).
He was pretty impressed with the tele, and didn't hire me, but he did give me something that had been previously loved and since neglected, and said, "See if you can make this go again".
An old Ibanez EX350. Korean made, or so it says. Typical tiny neck, hsh and a 5 way. Cool colour I thought. I wonder who it belonged to.
Whatever the story behind it, I'm treating this like a test. I am going to do my best to make this play well again.
So on the bench she goes, in preparation for the tear down and mandatory clean.
There is some obvious fret wear, which tells me it plays (or played) well. They all appear to be quite low too, so I am presuming they've been dressed a few times.
Some more
before
pictures.
Lots of gunk lurking in here.
A ding.
This ... I don't know what to make of this.
Anyone know what year it is? I'm picking '91 if this serial follows the older formula.
Pretty tidy in here really.
You can see an ... Outline ... Of ... Wtf
Not sure what this plate thing is but I can't get it out. The bridge is present - We'll get to that.
More gunk.
Heeeeeeere we are on the dark side of the ... Thing. Oodles of corrosion and god knows what else. I have a feeling I'll need to replace the pots. Switch? Maybe. Either way it's all coming to bits.
'60s wiring. I'll swap that to '50s style.
Spose the way to remember the pickup configuration is the bridge is slightly more corroded.
Thread tape on a neck bolt. Weird. I'm sure I can work that out.
Quite a good size thing of rosewood really.
It must've been a
value for money
sorta entry level type deal. The inlays aren't the tidiest, so that's the conclusion I'm drawing. More fret wear is evident here too.
I'm obviously not an expert knob puller, cuz it took quite a bit of goin' at it to get them off . . . and reveal more gunk. I wonder where this thing sat?
Can anyone see what's on here? Spoiler alert: Made in Japan!
Bridge is a TRS, going by the stamps on it. Licenced floyd gig.
Rag wasn't cutting it, so I found some old handy andy (I think) in the shed and dealt to it that way.
Came up loads better. Nice fleck to it. I will give it a real polish in good time.
Right.
Now.
You trainspotters out there may or may not know that - with the exception of the jazzmaster - my relationship with tremolo and/or vibrato equipped guitars has not been a kind one.
Especially not with floyds.
This is why I see this sorta resto job as such a challenge - I am tearing everything down to the last nut and bolt, and then I have to balance a floyd.
The horror unfolds.
So yeah, you can see the bridge is pretty gunky too.
I had a bit of a brain wave ... Years ago, I used to clean tools for a living (cool right?). My most used tools were kero and a brass brush. Brass would root the black finishy shit on it, so I used a nylon brush.
I think it came up pretty good really.
Here's the rest of the hardware fan club I saw fit to brush with kero.
I thought about putting some stuff on the grinder's wire wheel, but then I'd have to seal the parts again. I have black epoxy paint on my side, but I fear it'll simply be too gluggy for the delicate bits of hardware.
Reassembling the floyd, I found why the music shop bloke shelved the project (he did say there was a reason for it being in the state it was in).
This screw, and its accompanying saddle, are threaded. So, if anyone has a black saddle that'll work kicking about, let me know, let's talk turkey. I want to make this work.
A clean, and almost complete floyd.
Now the made in Japan thing is lots clearer.
... And that's where I've left it for today. Tomorrow I will polish the body up, and begin partial reassembly. May well grind back some of the hardware and paint, but ... Yeah, I'll see. It'll add time to the project, and I'd like to get it back to the dude within a reasonable time frame.
So yeah - Black floyd saddle. Help me out here

Last edited by
Single coil
on Wed Nov 01, 2017 7:00 am, edited 1 time in total.
werdna wrote:Well at least I can still make toast in the bath without anyone telling me it's unsafe.