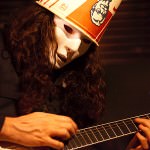 - Mon May 29, 2017 3:32 pm
#741678
Hey guys. I'm currently busy restoring my brother in laws Ibanez RG270DX guitar. He brought it over from South Africa and it's been collecting dust ever since. I removed all the parts and will be replacing the majority of it.
Unfortunately lost the tiny screws for the stock tuning pegs...
I checked with local / online hardware stores and couldn't find screws small enough. I tried 4g screws (tiniest ones available here), and have a feeling 3g might fit.
Alternatively I can replace them with new tunings pegs (any suggestions)? I've never upgraded tuning pegs before lol.
Before
Last edited by
Spykerwolf
on Thu Aug 09, 2018 11:52 am, edited 4 times in total.