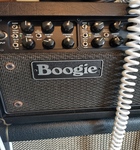 - Wed Oct 11, 2017 11:08 am
#760438
Just wanted to drop a good word in about Daniel at North Shore Guitar Repairs.
You might recall my telecaster got damaged, and I took up an insurance claim to get it filled and refinished. After an initial bit of mucking around from the first bloke it got sent to, who didn't actually get a chance to work on it. It got sent to North Shore Guitar Repairs.
In a coincidental bit of timing, the guitar was for me to pick up on my birthday last week. The guitar was stripped completely back to natural, filled and refinished. I have to say, he's done an excellent job. It looks as if it had come from the factory, and crucially it still plays and sounds just as good as before.
Pretty happy to have this back, it's been apart from me for longer than I'd actually been in possession of it. If you need a bit of work done, give this guy a crack.

https://www.facebook.com/nsguitarrepairs/
All rock and roll bands are on the verge of breaking up at all times.